Director of the academy - Coach Ali set this up in the summer of 2016 and boasts a great coaching background to match his coaching qualifications and his university degree.
Coach Ali oversees the whole academy and will be the main point of contact for all of the parents - he occasionally has to prove to all that he is still our best coach, by putting on world-class sessions whenever one of the other coaches claims that they are at the top of the pecking order!
Coach Mus is currently our head of quality control - he roams between sessions to make sure the sessions are delivered correctly and well-organised. He is completely in the background, but usually picks up the pieces in making sure everything gets done. He sometimes surprises us all by delivering sessions at Bell Road - and the kids love him. His background speaks for itself and he is currently the manager of Bush Hill Rangers first team.
Coach H - Head of Coaching and the holder of the 'Best Coaches Award 2019', as voted for by the parents.
H is a favourite here, with everyone. He's a true bright spark and a great character to be around. Our testimonials are full of praise for Coach H - and he was recently voted by our coaches as our 'best coach' (although Coach Ali doesn't agree).
He is constantly thinking of new sessions, which shows how passionate he is about the improvement and development of our little superstars.
Coach H wears a size large to make himself feel as if he has more muscles than he actually does...
Head Coach.
Coach Kristina is a favourite and, when she is not there, there is always something missing from the sessions. Her energy is unrivalled, her session delivery up there with the best of them but, best of all, the children absolutely adore her.
Coach Kristina is a huge asset to our academy, but if you are coming to one of her sessions, i'd recommend ear plugs...
Once, Coach Kristina took a whole weekend off because it was her birthday - shouldn't she want to spend her birthday with us? (sad face)
Coach Kel is currently the head-coach at Walker Primary School and Southgate school, with his infectious personality. His sessions are an experience in themselves and I am sure that the parents look forward to their interactions with Coach Kel as much as the children do!
Coach Kel also coaches mid-week, currently coaching at 7 schools & nurseries Monday through to Friday, coming with a great football CV having played for Spurs at their Academy.
Coach Kel constantly gets told off by Coach Ali for not sticking to the 'black tracksuit bottoms' dress-code, yet he still turns up in grey. Shall we let him go?
Coach Tee is the head-coach at Bell Road and is a specialist in our 5-7 age-group. He is able to manage the balance of delivering a fun-session whilst making sure the children are out of their comfort zones.
There are constant jokes about Coach Tee, as the other coaches believe he is Coach Ali's favourite - but they should watch his sessions… (written by Coach Ali)
Coach Tee will often be seen on-time, as he is never late... Wait, is that a joke?
Coach Stan has developed into a fantastic lead coach. He is a favourite among the coaches, parents and children and, despite his relatively young age, is the lead coach at Eversley Primary School across both Saturday and Sunday.
Aside from his coaching ability, he spends all his time indoors, playing Fortnite on his playstation - so he can have gaming questions with the little superstars too!
Coach Cem has come through the ranks here at Pro Elite, being a player for the best part of 7 years before moving into the coaching set-up.
Cem is great at building relationships with the children & is able to be on their level to make sure that everyone always feels at ease.
Coach Cem has been with us for over 18 months now and has just learnt how to do knees-knees…
Coach Can, (or coach Spiderman as he likes to be known) - is loved by the children. His energy is through the roof, he is always willing to learn and is great at being able to put himself on the same level as the little superstars.
Coach Can once missed a session because he'd mixed up which venue he was at - he was so apologetic that we can't let him forget it, can we?
Coach Nej has taken to coaching like a duck to water. He is a perfectionist and has managed to learn how to effectively deliver sessions, whilst keep high energy - he currently is a lead coach and his energy is infectious.
Coach Nej once went on holiday for 4 weekends on the bounce - Coach Ali was extremely close to launching sessions in the countries that he was visiting… Whilst also being close to kicking him out of the Whatsapp group chat.
Coach J is one of the most energetic coaches in London.
Coach J spent 3 years in Miami on a football scholarship and joined us upon completion of his degree. His wonderful character quickly made him a favourite amongst the children.
Coach J has recently moved back to Miami, but his legacy here lives on.
Another coach with an infectious personality, a smile as big as his energy and a great passion for teaching the children.
Coach E, as he likes to be called, is loved so dearly by the parents at Eversley Primary School, that Coach Ali gets a telling off if he ever places him at another venue!
Coach E is the best at doing good-morning, but that is all he can do…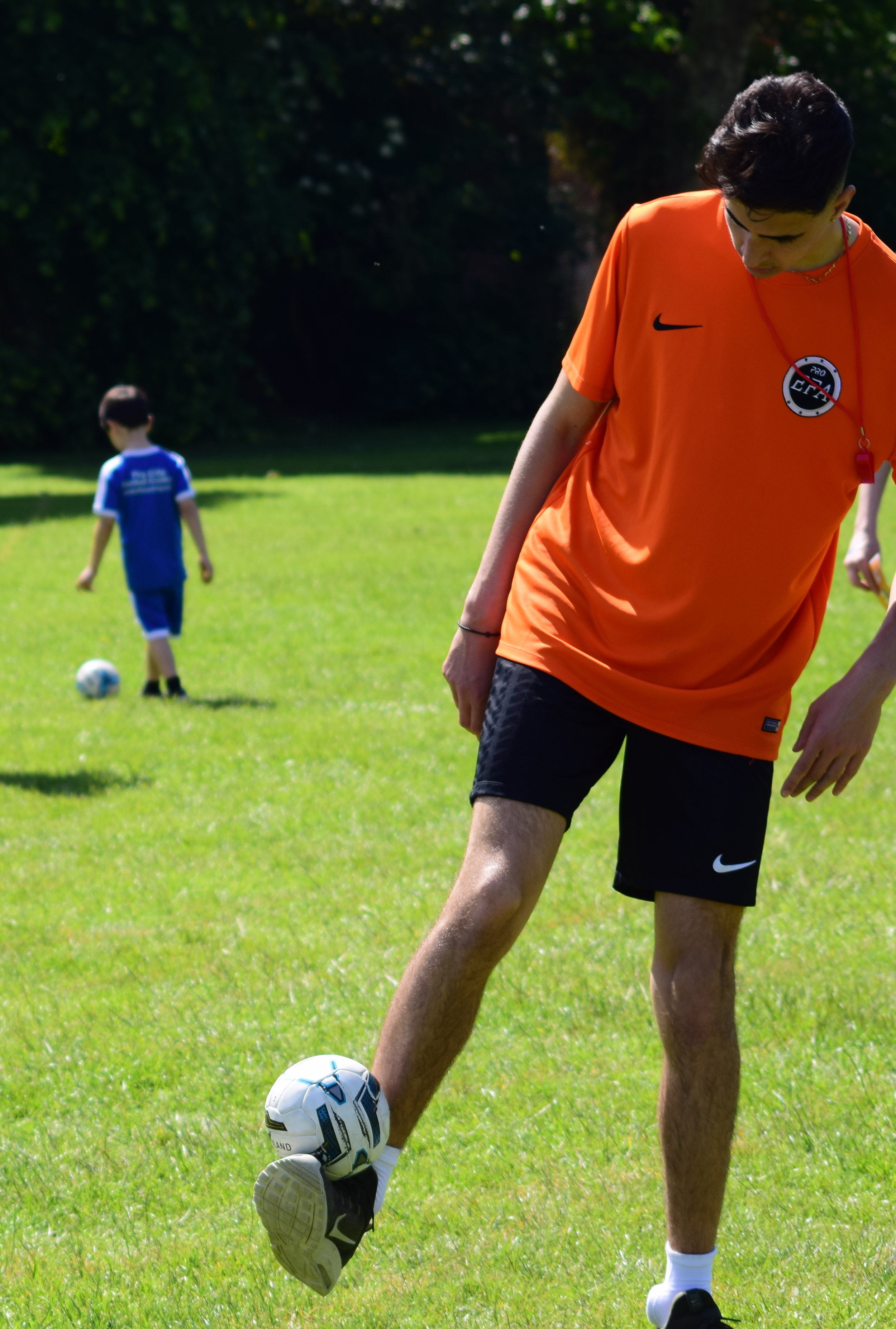 Coach Theo has a wonderful personality that is infectious, making the parents and children alike warm toward him instantly.
He started off at Bell Road, under the guidance of Coach Tee but since then has developed in to a great all round coach.
Fun fact: We had to get him a size XXL as he is 7ft tall…
Coach Eleni is also a new addition to our coaching team and has warmed the hearts of parents and children already. 3 weeks in, we had parents from Eversley Primary School already asking where she was!
She is naturally great with the little superstars and we have no doubt that she will develop in to a fine coach.
Fun fact: Eleni hasn't been on time once yet…
Think you've got what it takes to join the team? Drop an email to hmustafa@efacademy.co.uk to express your interest.